Hear reviews and experiences from our satisfied clientele
Katie F. of Blountville, TN in 2022
Paige M. of Ashburn, VA in 2021
Stephanie P. of Sydney, Australia in 2020
Sharon C. of Morgantown, WV in 2019
Kari M. of Phoenix, AZ in 2019
Oanh T. of Fremont, CA in 2019
Tonya M. of Asheville, NC in 2019
Heather A. of Cedar Rapids, IA in 2018
Natalie H. of Los Angeles, CA in 2017
Danielle C. of York, PA in 2017
I cannot tell you what it means to have my own hair back on my head! I feel like I can look like me again! The wig is absolutely beautiful, the part looks so real wherever I want to put it and it fits my head perfectly! I'm so happy it's like my birthday today!
Gayle D. of Lindon, UT in 2021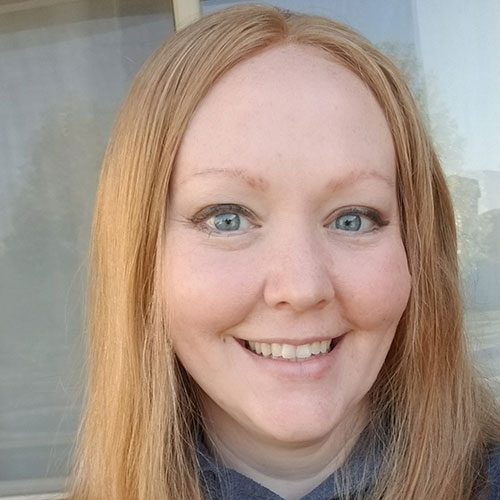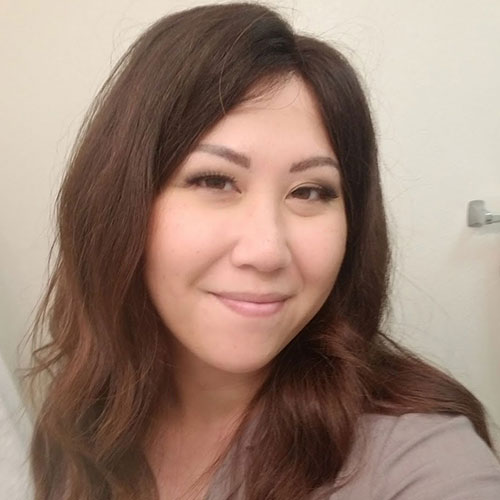 I had my last chemo this week! My sister had the idea of putting some makeup on me and styling my wig to wear to my last infusion. My nurses were definitely pleasantly surprised and a few didn't recognize me lol, but it's nice being able to look like my pre-cancer self. My wig is awesome because it means I never truly "lost" my hair.
Alyssa, M of Irvine, CA in 2021
Thank you so much for the lovely well-made wig. My mom is very happy with it. The wig turned out better than I could have even imagined (I didn't know what to expect)! I appreciate you making this process so straightforward and easy. Thanks again!
Susan G. of Happy Valley, OR in 2021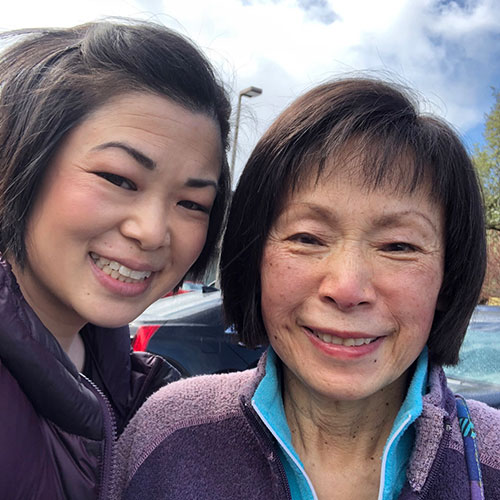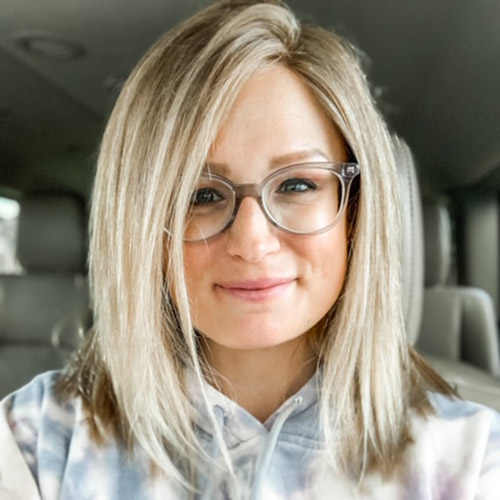 It's rare that I am in this big van all by myself! With seven kids at home full time right now (due to Covid-19), it was a little slice of heaven to go to the salon to get my wig cut and highlighted!  It was emotional to pull into the salon, realizing that the last time I was there I had no clue I'd be facing cancer or a pandemic. Thank you Compassionate Creations for giving me the means to save my hair…and the experience of 'wearing' the love of those who donated!
Shannon V. of Boyertown, PA in 2020
I wanted to send y'all pictures of my Mama and her new hair! She is so beautiful! I can't begin to tell y'all how thankful we are. I wish I could meet y'all in person and give y'all a big hug! You did an amazing thing when y'all started this business. I feel like I made new friends with you both!
Susanna P. of Bald Knob, AR in 2020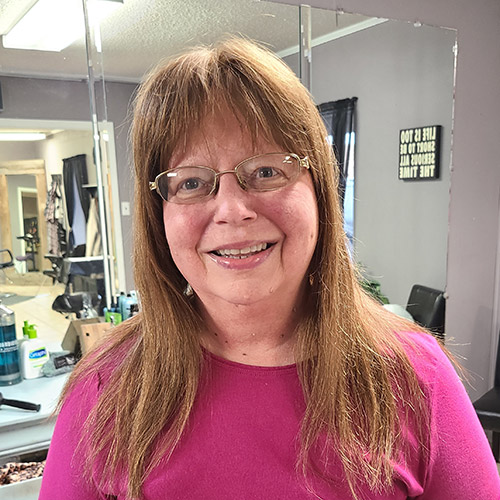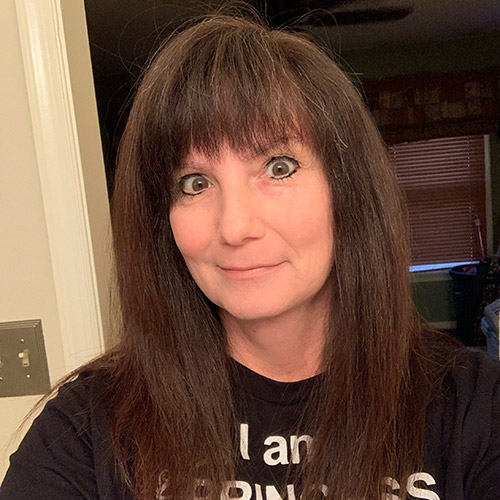 Thank you again for the beautiful job you did on my wig.
Kim Z. of Newark, DE in 2020
Here's a picture of my beautiful mom wearing the amazing wig you made. She turned 74 in September and loves it! Thank you so much! This was a great experience all the way through.
Heidi F. of La Pine, OR in 2020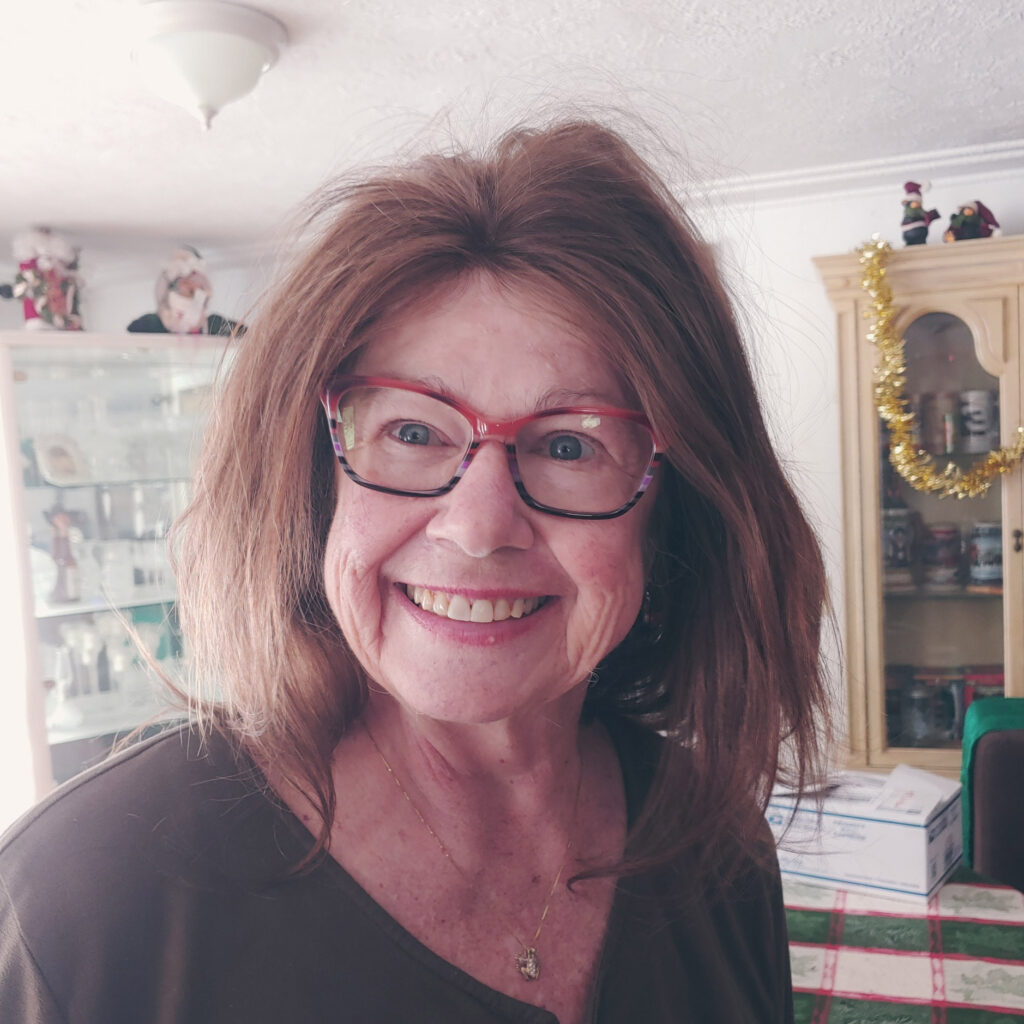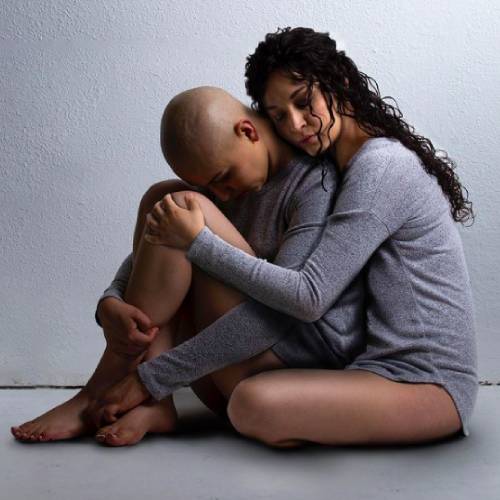 This composite photo was taken a week before my double mastectomy surgery. My wig was made from my own hair by Compassionate Creations and I am forever grateful that I got to keep a part of my pre-cancer self. Cancer for me has been more of a mental challenge than physical. Losing my hair was hard for me and during chemo I felt so fragile. It is so important to have support around, but I also think it's important to feel strong and take care of yourself so you can handle the detours life throws at you.
Amanda B. of Deming, NM in 2019
The wig arrived today. Thank you so much, we are in love with it.
Lorena L. of Phillips Ranch, CA in 2019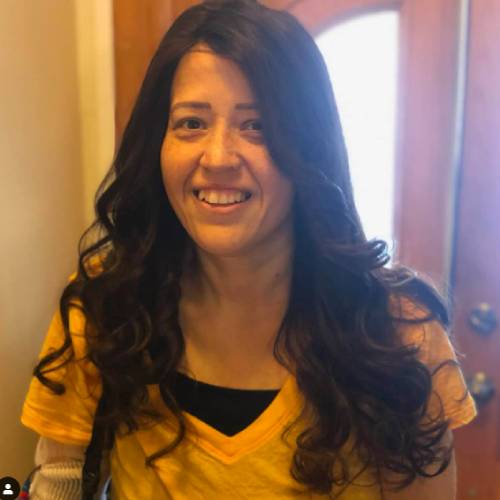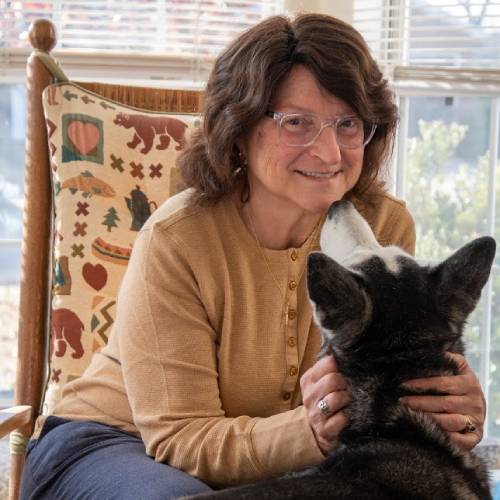 The wig arrived! It is beautiful! This is so much better than trying to disguise my bald head with hats. People have been very complimentary. Even the oncologist said I looked good. Most importantly, I love it! Thank you so very much!
Kate J. of Huntsville, AL in 2019
We could not be more pleased with the beautiful work you both did. We love this wig! It means so much to us to be able to have done this for our Grandmother. It's all thanks to you. I would recommend your services to anyone. The whole process has been wonderful. And we appreciate your existence. Thank you a million times over!
Krystle W. of New Port Richey, FL in 2019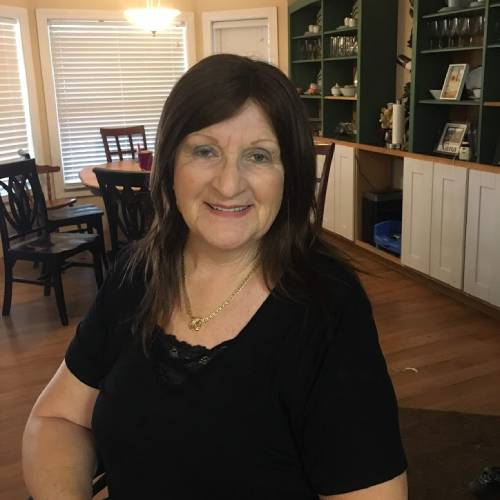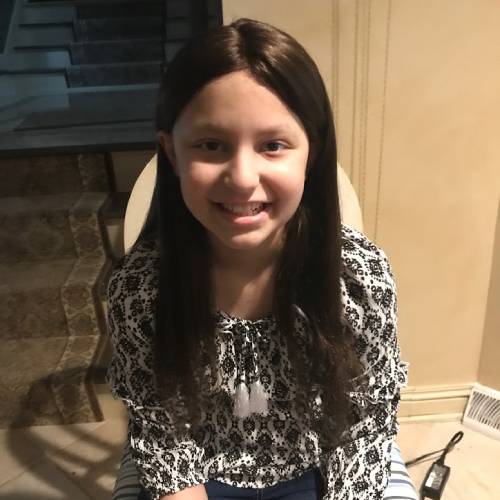 When my 11 year old daughter was diagnosed with brain cancer, there were so many things thrown at us; so much information, and so many worries. One of the worries was about her losing her hair. I kept telling her it is only hair, but being a young girl, hair is so important and defines who you are. My daughter had beautiful long hair and I was immediately was confronted with the fact that she would lose it all during treatment. We decided to look into options to use her own hair for her wig because, ironically, she was going to donate her hair to make a wig for "sick kids with cancer" prior to her diagnosis. I decided to cut and donate my hair at the same time to make it less traumatic for her and to show my support. We had a great experience with Compassionate Creations from start to finish. Gigi's wig looks excellent, fits perfectly, wears well, and she looks very much like she did before she lost her hair. We received support from start to finish, including measuring help, and washing instructions, etc. Gieselle and Veronica were very responsive and helpful in every step of the process. Thank you to Compassionate Creations for a great experience during an otherwise very stressful time in our lives.
Edna P. of Homer Glen, IL 2018
My name is Jen. I am a wife and busy mom to 5 children. On June 1st, our family was dealt a blow we didn't see coming: our beautiful 15-year-old daughter had cancer. We were devastated. How could this be happening?
After the doctors came up with a plan, we were told Cassie would have chemotherapy to shrink the tumor before they could surgically remove it. I asked her what she would like to do about her hair. She told me she wanted to keep it, so I started researching. I came across Compassionate Creations while doing a Google search. This seemed like it could be the answer. My daughter would lose her hair to this terrible disease, but maybe she could still have her own beautiful hair in the form of a wig. I contacted the company to see what needed to happen next. They were wonderful at answering all of our questions, and we got to work cutting Cassie's beautiful hair to send away for wig making. Cassie had a lot of hair to send!!
The chemo did end up taking her hair. It was hard to watch, but our girl was strong! Her brother and her dad even got matching haircuts to match Cassie's!!
Cassie is doing well today. She has had 2 surgeries and 3 rounds of chemotherapy so far. We have radiation coming up in a few weeks to hopefully get rid of the last of the cancer!
A few weeks ago, Cassie was feeling well enough to attend her high school's homecoming dance. Compassionate Creations made this night so much more normal for her. We are so grateful. If your child is facing an illness that will ultimately take her hair, I urge you to consider this company. The price is so worth it. The finished product they will deliver to you is bound to be amazing! Check out our beautiful Cassie – now 16 years old, in her custom wig made from her own hair.
Compassionate Creations has given Cassie a gift – the gift of feeling like herself again. Thank you!!
Jenn W. of New Bethlehem, PA in 2018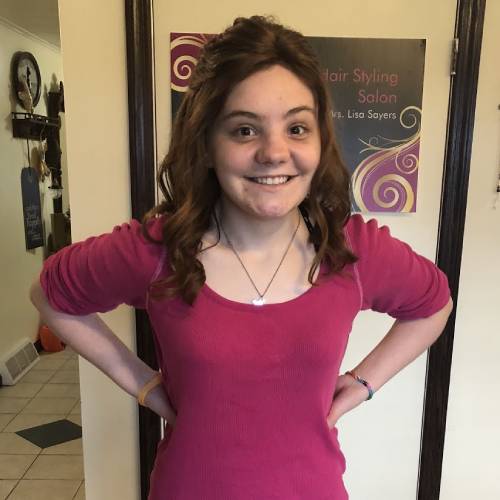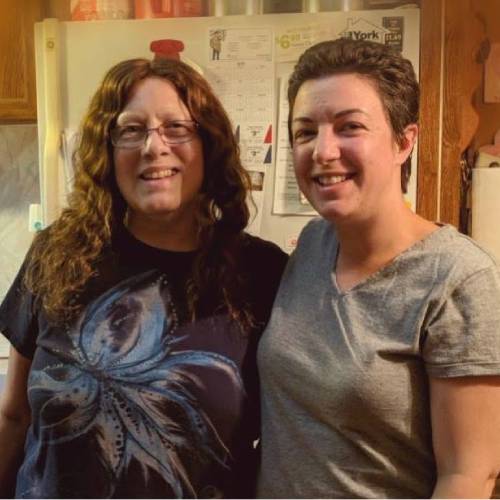 I just wanted to let you know I received the wig as expected. My mom was very impressed with it and she was surprised that it was made with my hair. It was the perfect gift and she just loves it. You do amazing work! Thank you so much!
Jamie C. of Windsor, PA in 2018
Veronica and Gieselle, I would like to thank you for making my wig. As a fifteen-year-old girl, losing my hair was one of the hardest parts of this whole experience. The wig you made for me gave me my hair back and helped me to feel like myself again. Thank you so much!
Veronica S. of Stockton, NJ in 2018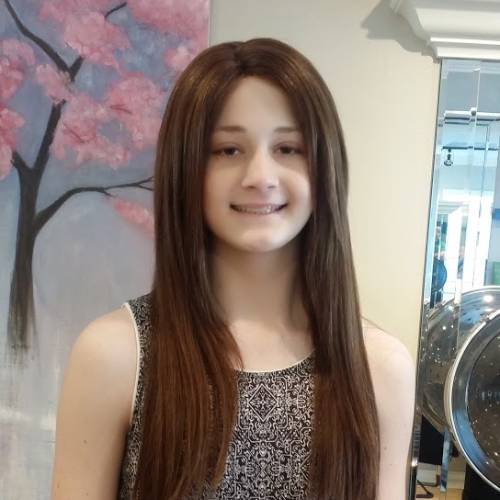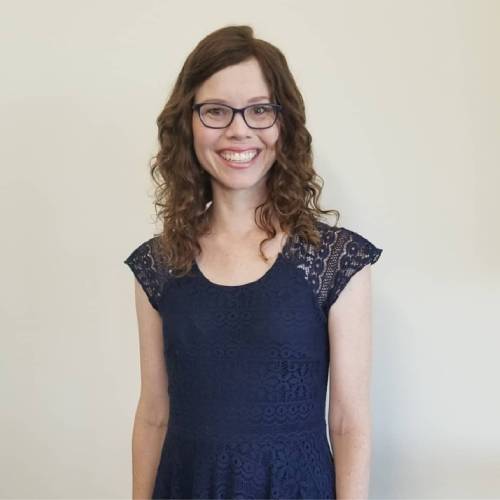 I love my wig!! Thank you again so much for my beautiful wig! My two-year-old daughter saw me in it and said "Mama" in a way that made me feel like she was recognizing me again. It was precious.
Meghan T. of Sugar Land, TX in 2018
Wow. The wig is so beautiful. Thank you so much. My mom LOVES IT. What an amazing experience to give this wig to my mom knowing it was built with my daughter's hair. THANK YOU!
Holly M. Woodenville, WA in 2018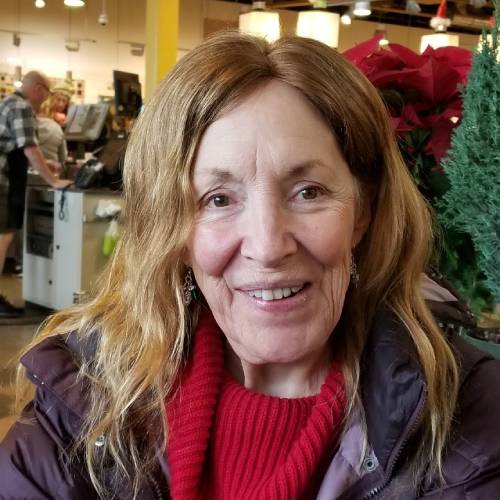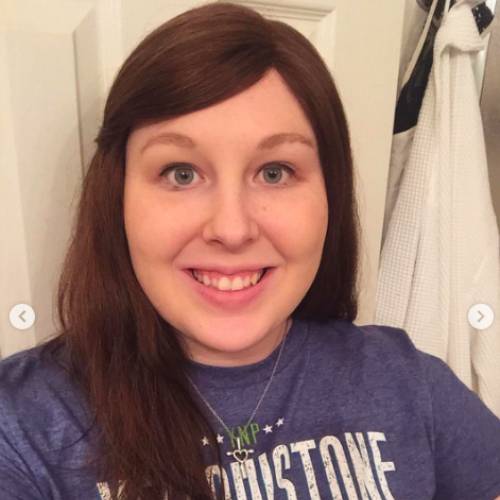 My hair is back (sort of)! I'm so thankful for Compassionate Creations and my wig made from MY OWN HAIR! I had literal tears when I opened it up and felt my actual hair and realized how much it looked like my old self. This is such a confidence boost that couldn't have happened without my amazing friends donating their hair to me. Thank you to everyone.
Kim J. of Aledo, TX in 2018
Hi Gieselle and Veronica, thank you for my new wig, I love it! I had it styled on Saturday and had a lesson from my stylist on how to put it on as he has worked a lot with wigs, he thought it was very good too! My little boy saw me when I first put my wig on and when I asked him if it looked like me again, he smiled, nodded and gave me the biggest hug! I hope that story has brought a warm glow or even a tear in your eye as I know you both care and that is why I chose your company to help me cope with the biggest life challenge I have faced.
Su B. of Medina, WA in 2018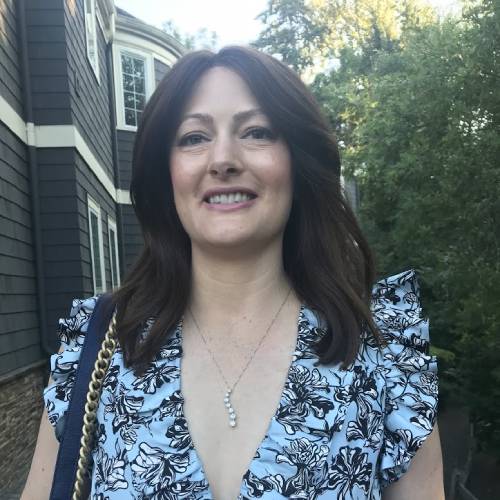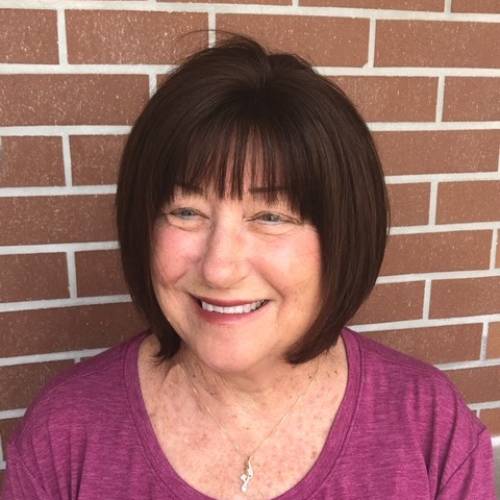 I just love my new hair. You guys did a marvelous job. Thank you for all your assistance.
Barbara C. of Chesapeake, VA in 2018
I just got the wig and it's beautiful! 🙂 The wig fits great and I've had a lot of compliments at work … and of course, my mom loves it!
Jeanne G. of Tallahassee, FL in 2018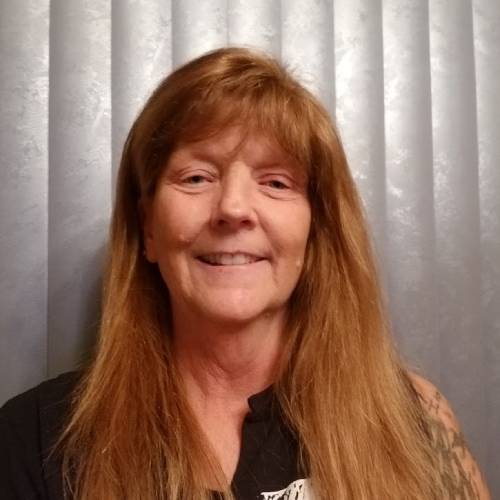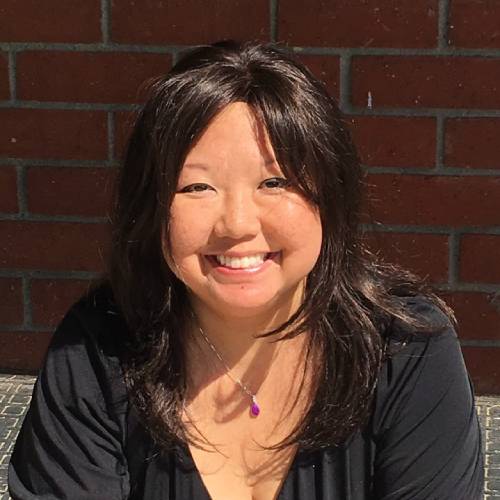 Hi my favorite ladies, still loving my fabulous wig! I had a follow-up appointment with my plastic surgeon this past week and he told me "that's the best wig I've ever seen and I've seen a lot." He's been doing his job for many decades so I thought that was one of the best compliments ever. I was also shopping recently at Trader Joe's — typical weekly shopping and got carded for a bottle of cooking wine! He didn't believe me when I busted out my wallet to show him my driver's license. He made me take it out so he could examine it carefully and actually calculate my age based on the year. He then proceeded to comment "Really! I would not have guessed, maybe I should start using that wine." LOL! I'm totally convinced it's the wig and may never go back to my regular hair because I never got comments like that before ;). Thanks so much for all your warmth and help in making me feel as fabulous as I can.
Chris T. of Torrance, CA in 2017
When I found out that I have breast cancer I was devastated. Then when my oncologist confirmed that I definitely would lose my hair (which was longer and healthier than it had been in years) I was crushed. I was determined to beat this cancer in every way possible and I wasn't going to allow it to take everything from me, especially not my hair. That's when I decided that I was going to have my head shaved and find someone to make a wig out of my own hair for me so that I could feel as normal as possible while going through treatment. I searched the internet and came across Compassionate Creations. I researched the company and the co-founders, Gieselle Blair and Veronica Balch, and was so impressed with them that I contacted them immediately. They responded quickly and explained the process so thoroughly that I knew that I could trust them to take my hair and whatever supplemental hair needed to make a beautiful wig for me. I was so overjoyed when my wig arrived that the sight of it brought tears to my eyes. Compassionate Creations gave me the hair I always wanted! They matched the color, texture and wave of my hair perfectly with the supplemental hair needed to complete my wig. Thank you for making me feel beautiful during a time when beautiful would not have been a word I would have used to describe how I feel.
Terry K. of Katy, TX in 2017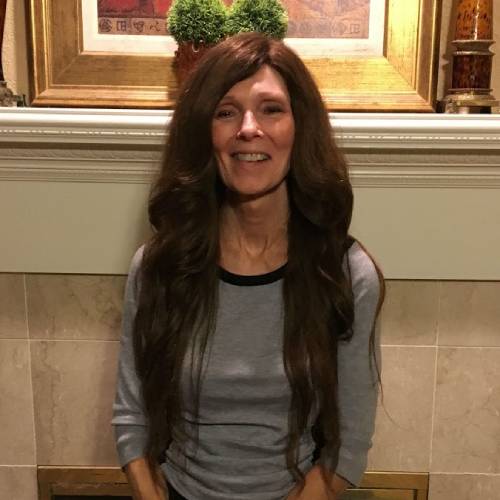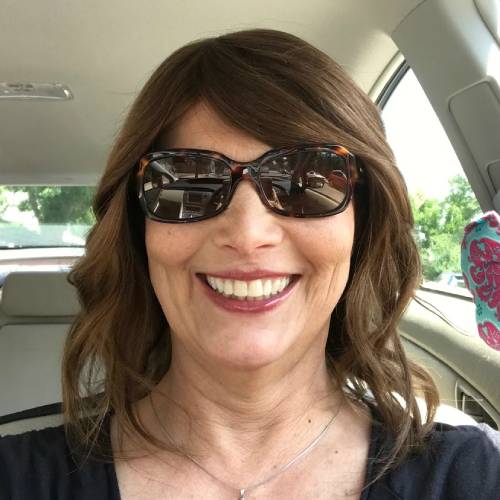 I am writing to let you know what a beautiful job you did with our mother's wig! It matches her hair almost perfectly. She told me how much she appreciates it and how she felt so much better having something to put on when she goes out in public. You did an awesome job! Thank you so much for all the time and effort you put forth to make such a difference in our mother's cancer journey. Thanks again and God bless you and your work as you help others in their time of sickness.
Bonnie T. of Pisek, North Dakota in 2017
Let's talk wigs.
Some people like them and some people don't! If you are on the fence about them (or know you want one, just not which one) I am going to push you to the wig-side. Not many will say that, let alone shout it out to the world! But it's not just any ol' wig because I have tried many types and they do not compare to my love affair with the custom-made beauty I just received!
Let me tell you what this wig is NOT!
-Heavy
-Bulky
-Itchy
-Plasticy
-Too tight
-Too loose
-Unflattering
-Out of Date
-Looks like a wig
Now beside me saying every opposite from the list above, I will tell you this. I am going through Chemotherapy IN THE SUMMER! It's hot and not having hair to worry about is awesome! But honestly, I LOVE HAIR! I have always enjoyed styling hair and playing around with it. So even though a bald head is a great coolant on hot days, I still wanted the option of running my hands through my hair, styling it for events or just as a comfort for those hard, emotional days. The Penguin Cap (a chemotherapy tool to help keep your hair) wasn't an option for me, so I did my research and searched through a small handful of websites. No one I spoke to knew if it was even possible to make a wig from my own hair and I found there are not many companies out that offer that service.
In the beginning of my search I was looking for some place that was local, but no luck there. Then I found a website that was informative, it flowed and was readable; nothing is more of a turn off than a website you have to battle through to get the information you need (not this site). I used the contact page and got a response almost immediately, we even ended up texting to talk about what I was looking for. Pictures and measurements were sent, if I needed some more help Skype (or FaceTime) was an option at any time. These girls take their job very seriously and walk you through every step of the way.
Once I had my Bon voyage party for my lovely locks and they were received, the time table began. A 8-10 week timeline seems long to be bald, but the wait is so worth the while and then some.
The custom wigs created by Compassionate Creations have been perfected in such a way you can't understand until you get to wear one. The seams are perfectly hidden, the fabrics used are super lightweight and soft. The stretch cotton back is specifically designed for Chemo patients to allow room in the wig for when their hair grows back. The banding around the bottom half of the scalp falls at just the right spot which is especially noticeable for people who wear glasses. The wig is washable, can be styled, cut, and even be danced in! You can move and groove with this baby on and it moves naturally like what your hair used to do and it doesn't feel like the wig is going to go flying off.
I've gotten great compliments from many people both who know I have a wig, out of amazement for its perfection, and from those who are just complimenting my cute little bob. But the greatest compliment to this wig has to have been from my husband; while in the same room with me, as I was getting ready for the night one minute he looked at me, I had the wig on and the next it was off. My husband gasped "I just forget that it's a wig!" It's a wonderful testimony to the quality because I have been walking around bald for 8 weeks. He was even the one who cut my hair off before sending it to Compassionate Creations. We (my husband, three boys and I) are all plenty use to the baldness and various headdresses.
Between barley being able to tell I have a wig on and being able to look in the mirror to see my own hair, I forget about all the harder stuff I am or will endure as someone diagnosed with Cancer and going through Chemotherapy. It makes you feel like you've gone back to a bit of "normalcy" as life gets shaken up a bit!
So please if you are in need of a wig, still have your hair, have a willing donor of hair (aka a friend willing to cut their locks), or would like the comfort of a custom cap using their available hair stock give Veronica and Gieselle a shout to talk about your options.
Danielle C. of York, PA in 2016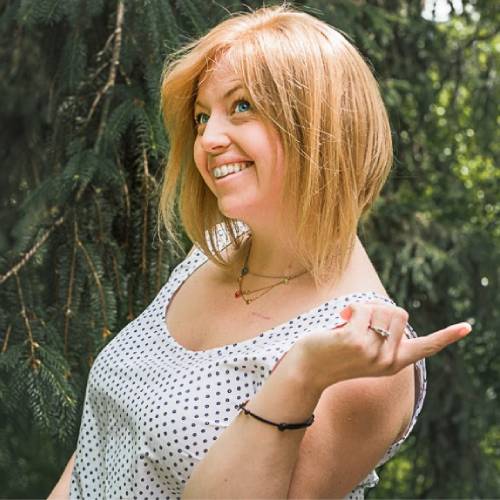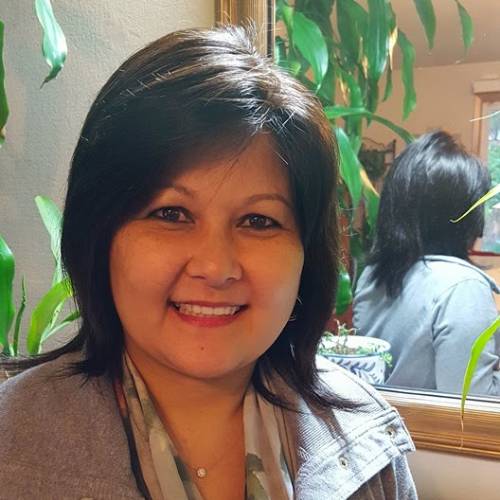 THE WIG FINALLY ARRIVED! A HUGE thanks to the ladies at Compassionate Creations for being so easy to work with and for your incredible talent to have designed such a gorgeous wig. In a world where cancer is a storm blocking my mom's shine, I think this wig is a small breakthrough where she can get that sense of identity back from what cancer took away. I can't express in words how happy and honored I feel to have had the chance to donate my own hair to my mom.
Christianne N. of Salem, OR in 2016
I am in love with this wig. It is awesome to have a peek at my old self. Thank you, Compassionate Creations, for your excellent customer service and craft. If you are in need of a custom wig, you really need to give these ladies a call.
Leslie C. Bullhead City, AZ in 2016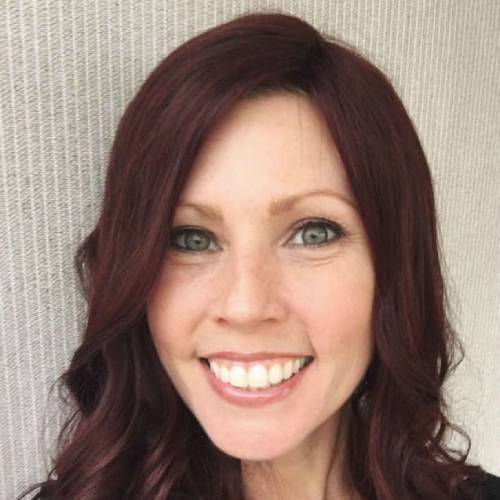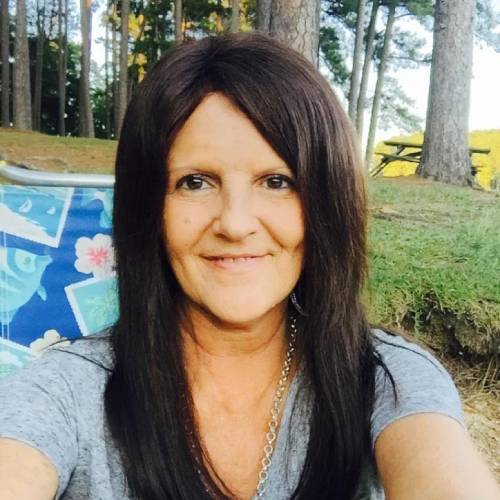 I truly can't thank ya'll enough for helping my mom feel like herself again. She's finally comfortable going out in public and doesn't feel like people are staring at her. She's so happy with her real hair wig because it doesn't itch like her old synthetic wig did or give her headaches. Thanks a million times over for making my mom feel like her beautiful self again!
Stephanie R. of Kershaw, SC in 2015
I just wanted to tell you personally, thank you. Thanks for what you do and for being so helpful. Erika and I opened her package today and she couldn't stop giggling. The wig looks so great. I'm so grateful to you both. You have been precious! I already have people asking me who I had help us and where they can also donate their hair and I am so happy to tell them Compassionate Creations. This has been such an exciting journey and I'm so grateful. You both have been such a blessing and I love what you do. Thank you!
Kaisha S. of Mustang, OK in 2015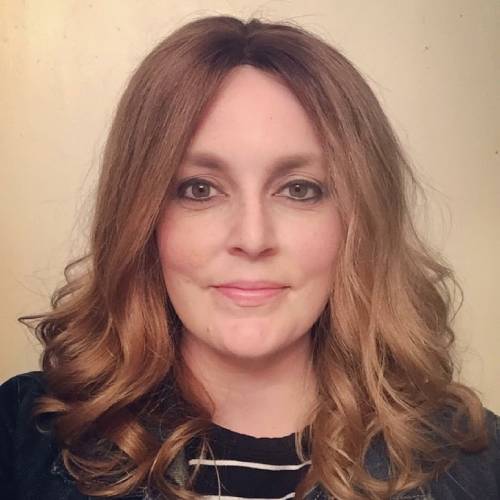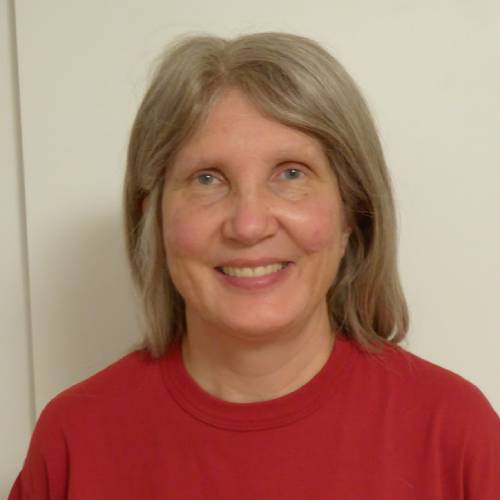 The wig is fabulous! Tomorrow there is a big afternoon conference at Harvard. I am so happy I have this wig to wear and won't have to explain to everyone what happened to me and my hair. 🙂
Milja P. of Chestnut Hill, MA in 2015
I'll never forget Veronica's kindness when we were looking for a wig for my cousin. During a very stressful time, not only was she incredibly kind, but she was prompt and even came to the hospital to cut my cousin's hair in preparation for chemo. The wig was and is perfect. I recommend this kind and honest company 100%!
Clara H. of Irvine, CA in 2014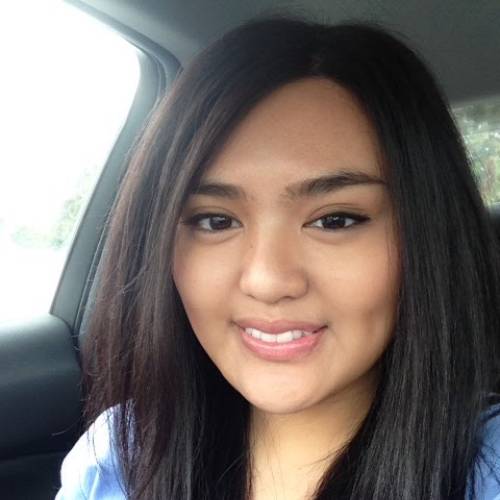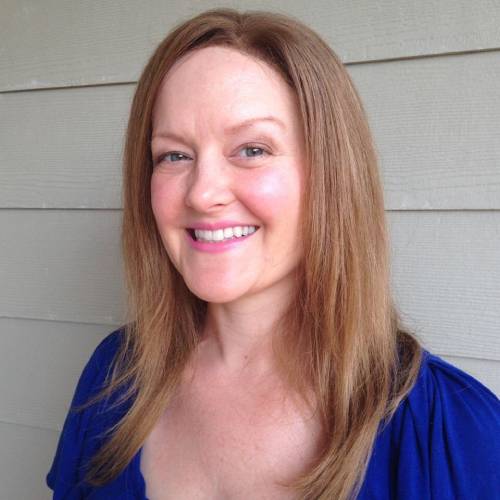 Upon receiving a very unexpected cancer diagnosis and being told I would need to undergo chemotherapy, I wondered if there were any options for making a wig with my own hair. Searching for this possibility led me to Compassionate Creations and I could not be more grateful. Knowing my own hair would be coming back to me somehow made the experience of cutting and then losing my hair far less traumatic than I think it would have been otherwise. Also, the care from Gieselle was incredible. Although I live across the country from Compassionate Creations I felt very connected to the entire process because Gieselle stayed in consistent communication with me and kept me updated on the progress. Once I received my wig, I was amazed at how much I look like me in it. I've had so many people tell me they would never know it was a wig without being told. The result is really beautiful and helps me to feel like me. Just as important, in this cancer treatment process where so many things are difficult and unknown it was such a relief that Compassionate Creations was so easy and supportive to work with. I would recommend Compassionate Creations to anyone for their expertise, skill and professionalism.
Abbe F. of Antioch, TN in 2014
A cancer diagnosis is a shocking thing to hear and losing your hair from the treatment really hammers the diagnosis home. I was fortunate to have a very thick, full head of hair at the time of my diagnosis and wanted to have a wig made using my own hair to maintain my "normal" appearance. I found Compassionate Creations online and put my hair into their hands! I met with Veronica on Skype for a consultation and worked with Gieselle during the construction of the wig. The final product is gorgeous with exceptional attention to detail to ensure it looks natural on my head. My hair was supplemented with hair I purchased through Compassionate Creations and it was an almost exact color match. You'd never know it was two different sets of hair. The timeliness of the process was also great! I received my wig on time, per the contract, and the care instructions are very straight forward. While losing your hair is a very devastating thing, Compassionate Creations can provide you with the support and products to make this difficult time easier to cope with all while looking fabulous!
Janelle S. of Buckeye, AZ in 2014